Last summer, one of the biggest US gymnastics meetings took place a few miles from Rachael Denhollander's home in Louisville, Ky. She really wanted to take her daughters to the competition, especially since there were rumors that Olympic Simone Biles was going to reveal a double triple twist – something that no gymnast had ever done.
But after all she went through, Denhollander – a mother of four – thought it was not right to expose her children to the world of elite gymnastics.
"I couldn't take them in front of these athletes and have their minds full of starred ideals, knowing what is happening on the stage," said the 35-year-old. "I cannot put these coaches or athletes in front of my girls. And it broke my heart.
Denhollander has been in the midst of a public reckoning with the sport since 2016, when she became the first woman to report sexual abuse at the hands of Larry Nassar, a doctor at USA Gymnastics and Michigan State University. In August of that year, she filed a Title IX complaint with MSU and told the police department that Nassar had attacked her when she was a 15-year-old gymnast.
His story – now at the center of Netflix's documentary Athlete A – would compel more than 260 athletes to present their own stories about Nassar's abuse. In 2017, he pleaded guilty to federal charges of child pornography, in addition to several counts of first-degree sexual assault and will likely now spend the rest of his life in prison.
But even if Nassar is behind bars, Denhollander and others in the gymnastics world think sport has a lot more work to do to deal with claims of systemic emotional, physical and sexual abuse. We talked to her, the "Athlete A" directors – Bonni Cohen and Jon Shenk – and the 1986 US national champion Jen Sey, who also produced the film, about the problems they hope the documentary will bring to light.
Former gymnast Rachael Denhollander, at the center, is hugged after giving her impact statement to the victim during the 2018 Larry Nassar hearing in Lansing, Michigan.
(Carlos Osorio / Associated Press)
Rachael, you have been so outspoken on this issue for years. Was there a part of you that didn't want to be in a movie where you had to talk about what happened again?
Denhollander: Every time I speak, I find it difficult. It is never an easy thing to do. But I had already been through so much. Continuing to advocate was something that really needed to be weighed, because it has a significant cost. But it is better to do something than not being able to do anything. I want women to know that they are not alone and that the stories are not unique. That they are part of a community that understands.
Cohen: I think we really learned that you can't push people who don't want to be pushed. The repercussions of re-traumatizing girls and women – the danger of that is far more important than anything you will have in the film. They will tell you what your limits are.
This film will be released just over a year after the release of a well-reviewed HBO documentary on the same subject, "In the heart of gold". Did this project interfere with yours?
Shenk: We knew about the movie and what was going on. But good work gets there, and people respond to it, even if there is competition. We've never really been so worried. We had a very special corner of the story. We hope there will be several films – this is the biggest scandal of all time in the history of the sport. It will take a long time to unpack all the damage and the success of the survivors. We celebrate that.
Cohen: There were some auxiliary characters in our film who informed us that they were going to participate in Erin [Lee Carr's] movie. And that was a factor for us. We were not going to make them a big player. It is difficult, because you are already navigating a difficult story and want to get it right. I think we were also thorny when trying to access some of our subjects and that just didn't happen.
Shenk: We decided not to watch the movie, because we really didn't want to color our story. Our producer watched it, mainly because we wanted to make sure that there was some kind of fact check – we wanted to make sure that we were not missing something or getting it wrong.
Cohen: We should probably watch it now.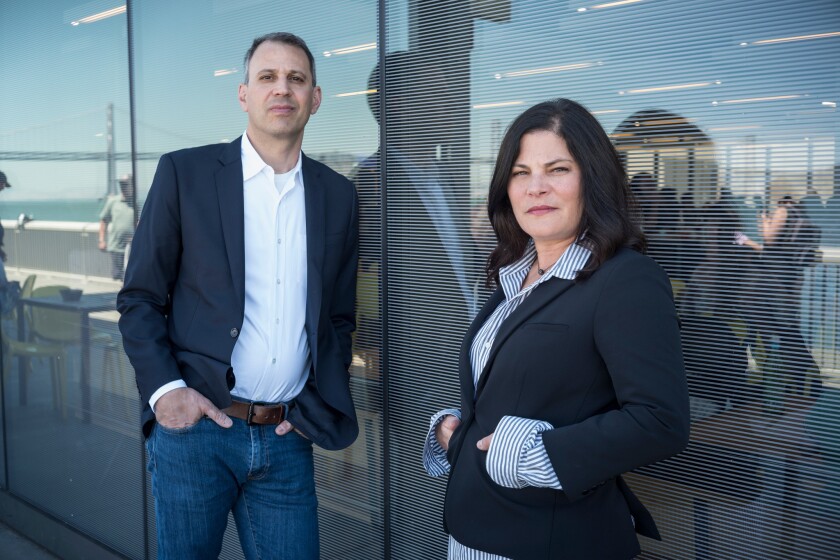 Jon Shenk and Bonni Cohen, seen here in 2017, are a husband and wife film crew whose last film was about Al Gore and climate change.
(David Butow / For the Times)
Were you surprised that so many projects were made about the Nassar scandal? There was also a popular NPR podcast on the case, "Believed" 2018.
Shenk: It seems that documentaries are just more valuable now than they were when we started making films. We were impressed that Netflix wanted to take this movie, knowing that [the HBO] the film was already out there. They told us: 'We are not going to hurry. We are not competing with this film. You take the time to get it right and you will find an audience. I have a feeling that some of the great streamers are more focused on who their audience is than who is not. It gave us a lot of confidence – if they are not worried about it, they must know something that we don't know.
Cohen: We are living in a time when the truth is power, and it is very difficult to know what the truth is. We are living in a funhouse. The general public uses the documentary to understand what is happening and get a deep story. It has become a commodity. If you have a good story, you will have two or three people making the same story.
Denhollander: The interesting thing about this story is that it really took an incredible effort to attract interested people. I am very grateful for where you arrived, but it took a long time to get here. We were not boys. It was not a famous football program. When I told my story, I received more requests for international publications than national ones. We have a very stellar culture, so what for someone abroad was a very important case of abuse was not recorded on a national scale. If you look at Google's results, the news spikes didn't start happening until we got to [Nassar's] verdict. You saw interest almost immediately in the Penn State case.
Why do you think this is it?
Denhollander: It goes back to: How much is a little girl worth? It shouldn't take more than 100 damaged girls talking about something to get people to pay attention. This is something I hope to see changed – the value of the little girl who is not famous weighs as much as the one who is.
US female gymnasts in a scene from "Athlete A."
(Netflix)
How do we celebrate the achievements of elite gymnasts now, knowing that many of them have been abused to achieve success?
Denhollander: I think it is a very difficult question. With my own children, I focus a lot on athletes who have been involved in advocacy – where their hard work has not just been in gymnastics. I talk about Jen or Dominique Moceanu or Aly Raisman. They work really hard, but it's so incredible that they really care about the people around them. For Jen and Dominique, in particular, the reality was that they loved gymnastics, but had to give up because of their defense. It cost them a lot – their reputations, endorsements, financial gain – because they told the truth. Gymnastics is beautiful, but it's not more important than doing it right. I want my children to see athletes with a comprehensive view of personality.
Cohen: I think if you asked Kerri Strug today, would she support your decision to run down that track, make a jump and win a gold medal, even with a broken ankle? I think she would say yes. But how do you separate it if she knows what she wants to do, because of all the years that she was told what to do? It is a very difficult thing to analyze psychologically. There are sacrifices to be made. I think we can all agree that sexual assault shouldn't be on the menu. But what other sacrifices are sustainable and can be considered necessary, depending on the trainer you are talking to, to reach that end? I think it's a very subtle conversation.
Is there a way to ethically watch Olympic gymnastics?
Denhollander: I think if you're honest about what's going on and simultaneously push for change, yes. We will celebrate athletes, but do not support, justify or minimize abuse.
Cohen: Our hope is that [since] the Olympics are not happening this year and this summer, I think people will think about what it means to have a change of perspective. It would be our hope that people would tune in and watch this, so that they could still see the glory of the sport through these more difficult lenses, and perhaps get out of it amused, but with a different perspective.
Sey: Most people don't think about gymnastics, except when they watch it every four years during the Olympics. I have no doubt that people are going to watch the movie and suddenly everything is going to change. This culture is deeply rooted and cultural change takes a long time. But if you put pressure on USA Gymnastics to make more changes – requiring an independent investigation into what really happened – I think this is important.
Jen Sey, now an executive at Levi Strauss & Co, is a former US national champion who produced "Athlete A."
(Netflix)
Would you let your children participate in gymnastics?
Denhollander: They participate and do not participate in gymnastics in the USA until they clean up their act a little more. In general, my experience with the sport itself was very good and I learned a lot. I would love for my girls to have this experience, but I …